Tashita COP-V Car Render Challenge 2020
Topic starter
03/10/2020 6:33 pm
I'll be making a retro-futuristic car design for this challenge.
Using 80's and 90's references I came up with this story:
The Tashita COP-V (Critical Officer Pursuit Vehicle) is the latest of law enforcement's specialty vehicles.
Assigned to cyborg-task force Officer Sonny Sprockett in Neo-Miami Police Department, and his mutant partner "Leonel".
They roam the criminal world as undercover hunters for Zombots - malfunctioning robots that have turned into a malicious problem
within the population. Zombots look identical to regular humans and can't be easily recognized.
However Sprockett's robotic eye in combination with his high-tech sunglasses will reveal lurking Zombots from distance.
Leonel was turned into a mutant boar in a motorboating accident as a child.
He possesses incredible strength, and unexplained sense for Zombot movement near him.
Now they've been given this new vehicle when their previous, older model Tashita was blown to smitheerens by a lunatic coffee-
dealer.
Tashita COP-V is a mid-engined, high-speed supercar laden with undercover reconnaisance tech.
The low and sleek body contains electro-hybrid powertrain, high-spectrum wave radar, 5 jiggawatt laser beam pulser, multi-function
radio equipment and a large-calibre espresso maker.
It has seating for two, and a center-console slot for one medium-sized pet.
Near-silent drive mode is possible for low-key movements, and at pursuit speeds the active aerodynamics help in keeping the arrests
on the track.
For more information, contact your nearest TASHITA dealer or call your mum.
Starting the procedure with sketching, as always.
Topic starter
03/10/2020 9:38 pm
Topic starter
06/10/2020 7:35 pm
Created more sketches about the Group-C style car.
Also came up with the idea of the final image being like an action-movie poster: the car could fly through a glass out of a skyscraper, with the other door open and Leonel reaching out to shoot something.
It's a dark night, but lights from the car and surrounding buildings will lit the scene.
Pieces of glass and debris, smoke and flames to create a true action-flick look.
Some (badly photographed) sketches: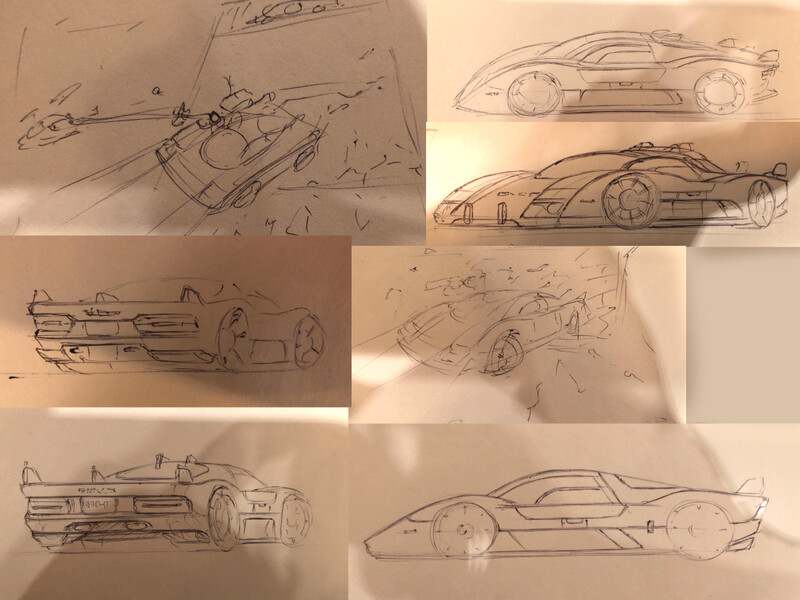 ?1602008971
Topic starter
07/10/2020 8:37 pm
Not much time today, and perhaps very little for the remainder of the week.
Managed to do a first sketch using 3d as base, there's a simple mesh to get basic reflection and perspective.
Also decided to re-brand the car from "Tashita" to "Yazmuza" since the Tashita name comes originally from Carmageddon, and this car isn't really related to it in any way.
Topic starter
11/10/2020 10:10 pm